Exclusive Webinar for Association Executives: State of the Insurance Industry Panel Discussion
AFFORDABLE HEALTH INSURANCE COVERAGE OPTIONS FOR YOUR MEMBERSHIP
TURNKEY • NON DUES REVENUE PROGRAMS • COST EFFECTIVE
The LIG Association Health Program is designed to offer concierge service to your members in need of individual, family, and business/employee health insurance coverage options. These plans include coverage options from the leading insurance carriers and are tailored to fit their individual financial and health needs. We deliver your organization non-dues revenue options with little to no staff time required while delivering a true national member benefit that includes CHOICE and multiple coverage options with major medical, short term policies, Medicare, vision, dental, critical care, accident medical plans, disability income protection, supplemental Insurance coverage, our exclusive Group Health Reimbursement Arrangements (HRAs) Plan, and more.
LIG Association Health Program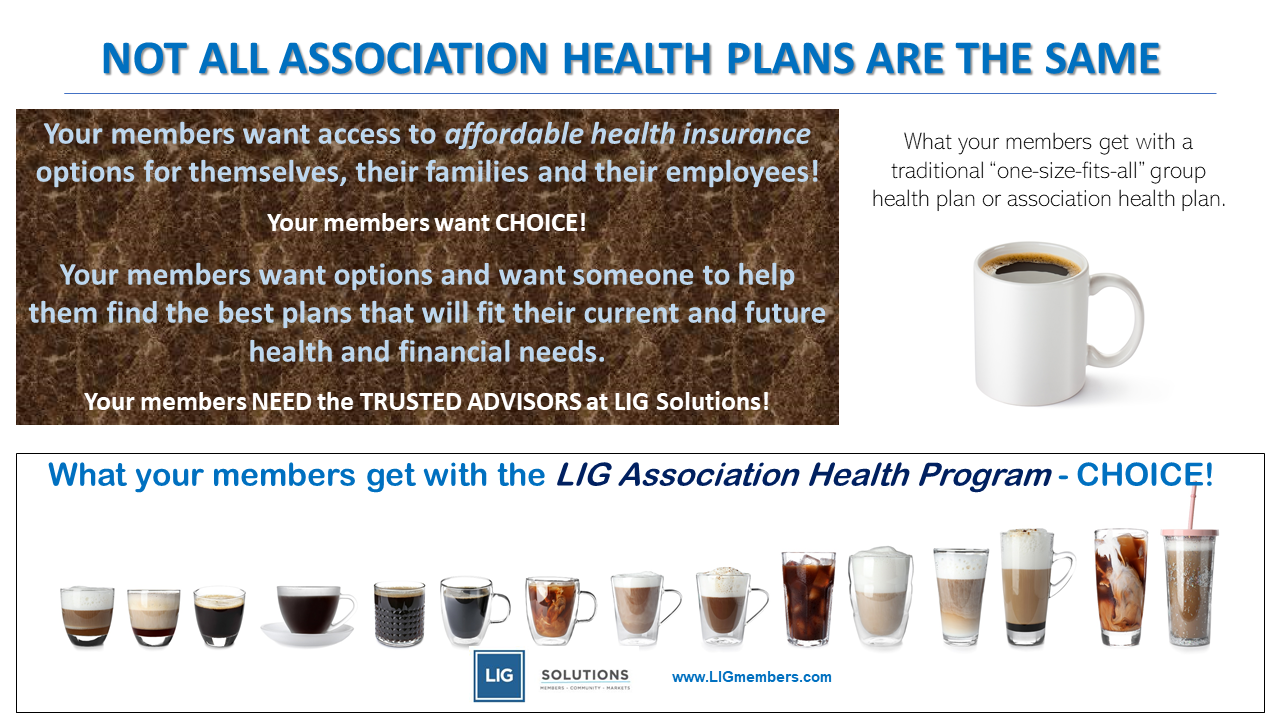 WE ARE NATIONAL, REGIONAL, AND LOCAL
Coverage Options for Members
Nearly all your members can benefit from the coverage options LIG offers including major medical, short term policies, vision, dental, critical care, life, supplemental coverage, Health Reimbursement Arrangements (HRAs) programs and much more to either make up for coverage gaps with current employer plans or for those typically do not qualify for corporate group plans (i.e. sole proprietors, independent contractors, 1099, and part-time employees).
Member Concierge Service
LIG has a dedicated team of licensed advisors located at our USA based HQ to best serve your members in navigating today's complex health insurance market. Our team will find the plans that best fit your member's health and financial needs for individual, family, and small group coverage options.
Licensed In All 50 States
LIG offers health coverage options in all 50 states from many of the leading insurance providers from around the country with competitive plans & pricing from both public exchanges (ACA compliant) and private exchanges (non-ACA compliant), as well as Health Reimbursement Arrangements (HRAs) programs that are tailored to your member's individual needs.
Member Benefit Program
The programs offered by LIG are designed to help you provide a cost-effective member benefit that you can use to help keep your members engaged with your organization and attract new members with a content marketing platform that is included at no-cost for our association partners.
Non-Dues Member Revenue
All our program are done as a no-cost solution for our association partners and include a number of different "marketing remittance" options that delivers your members the advantages of affordable healthcare pricing, and streamlined enrollment process while delivering your organization a revenue stream and a turnkey solution that delivers true ROI
Little To No Staff Time
Each of the programs offered by LIG requires little to no staff time as we do all the "heavy lifting" for your organization as we administer the entire program. This includes all the content marketing elements, landing pages, and other support material used to educate your members about their coverage options with the plan offered through your co-branded health insurance program with LIG.
Our Services
LIG Solutions will ensure that your members gain access to:
Competitive plans & pricing with multiple options/providers tailored to their individual need.
Professional insurance advisors, who work for your members, not the insurance carrier.
We're not tied to a specific carrier, and we do what's best for your members.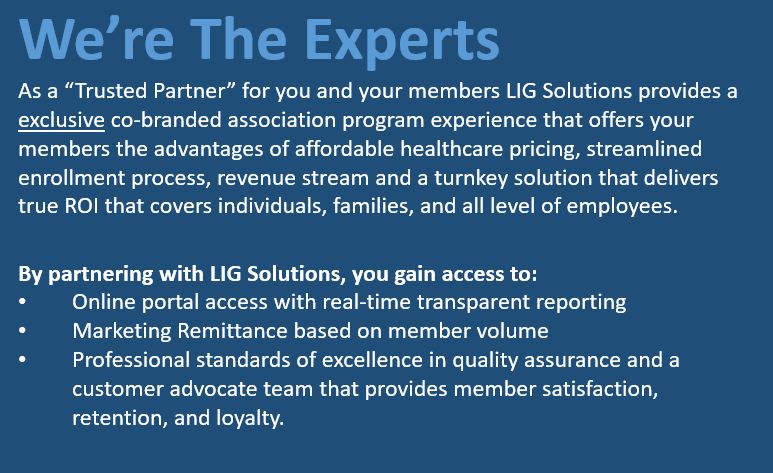 LEARN MORE ABOUT OUR PROGRAMS
Headquartered in Cleveland, Ohio, LIG Solutions, a division of Lighthouse Insurance Group, specializes in offering comprehensive, turn-key insurance solutions for associations, societies, NGB, membership organizations and other affinity groups. With more than 30 years of combined experience in the health, life, and Medicare insurance industry, LIG has successfully distributed more than 36,000 insurance policies nationwide per year and delivers member benefit programs centered on health and wellness initiatives to drive retention and engagement with the communities/marketplaces they serve.
Frequently Asked Questions
WE WORK WITH MANY OF THE LEADING NATIONAL CARRIERS

Call Us:
Our no-obligation assessment can help you find the best health coverage benefit program for your members!
We include as part of our member benefit programs a health and wellness-centric quarterly eNewsletter for our association partners and their members. This program is designed to help you position your organization as being a key participant in the health and wellbeing of your members, their families, and their employees. You will see this in the content below as well as details on our association partners and the member benefit program overviews.
LIG Health and Wellness Roundup
SUMMER 2021 Edition: Healthy Living Ideas from around the Internet – The information below comes from some of the leading experts and information resources on healthy living. LIG has curated these articles to help keep you up to date on the latest news, trends and data on leading …
Ready to 
HELP YOUR MEMBERS BE HEALTHY?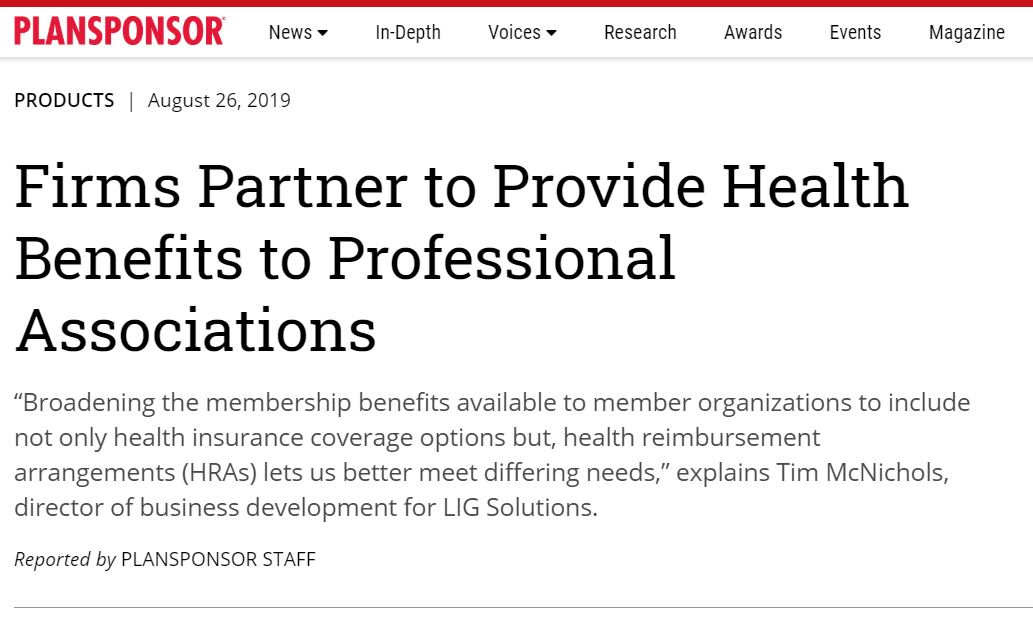 Disclaimer: By clicking on the submit, get a quote, and sign up buttons, by completing a contact or quote form on this site or calling a number posted on this site, you represent that you are at least 18 years old and consent to be contacted by Lighthouse Insurance Group, LLC and/or its affiliates and any of their commercial partners concerning the purchase of policies for life, health and other types of insurance, even if you are on a state or federal Do Not Call Registry. You agree to be contacted through the use of emails or on your landline or mobile phone by live operators, automated telephone dialing systems, pre-recorded messages, and/or SMS text messages or email. Your phone carrier's message and data rates may apply. Your consent is not a condition of purchase, and you may revoke your consent at any time. You may also call 866-230-0222 to inquire and/or purchase. Lighthouse Licensing and Legal Information can be viewed here: https://ligsolutions.com/licensing-and-legal/. LIG legal policy: https://ligsolutions.com/privacy-policy/